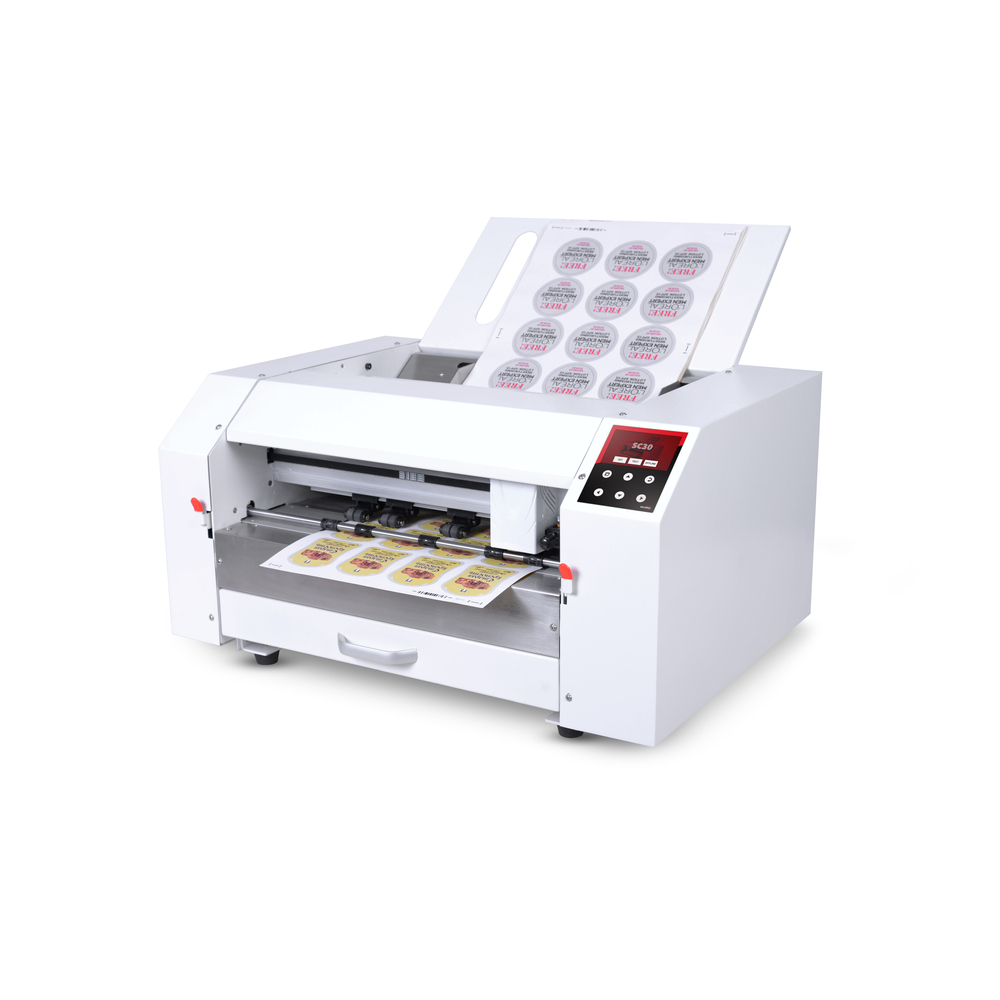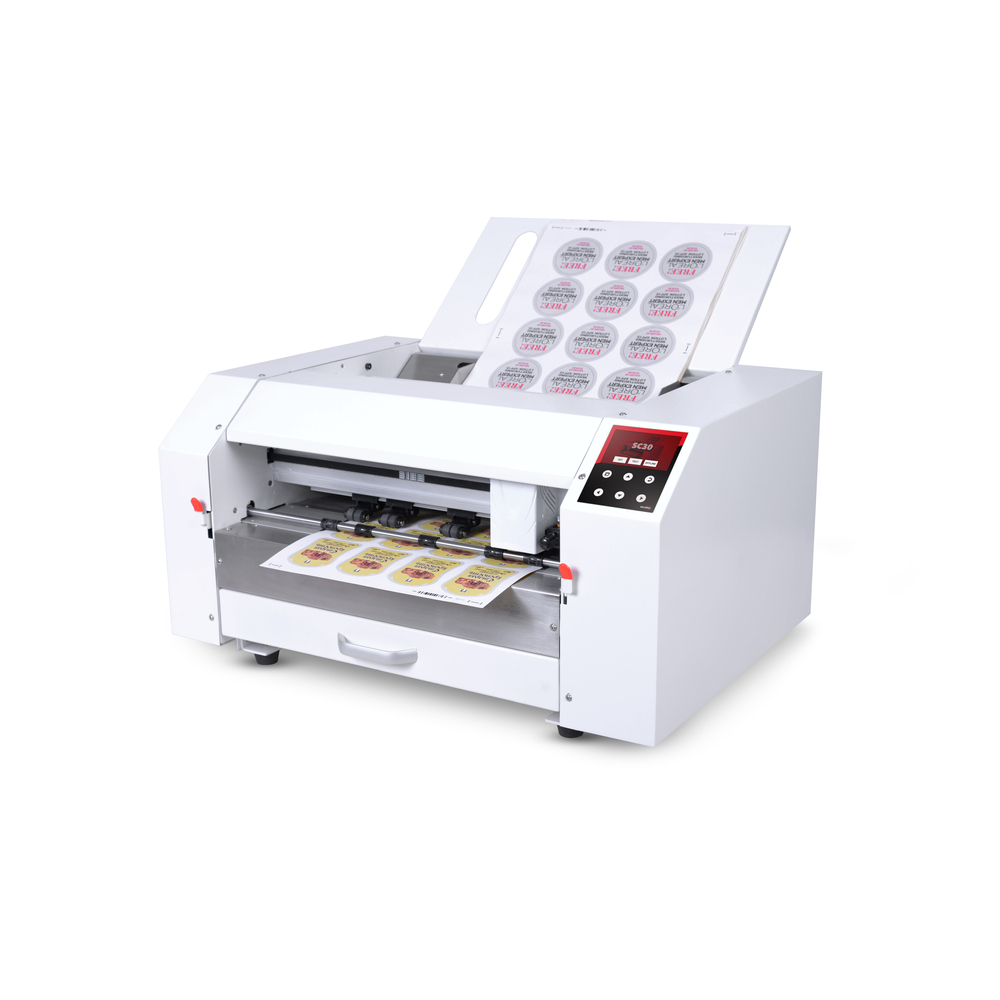 Secabo SC30 Sheet Vinyl Cutter with DrawCut PRO
by Secabo
---
Article number: 100-106-530-10
The maximum contact pressure of the cutting system of up to 750g also allows the cutting of laminated prints. The SC30 sheet cutter is the ideal machine for the reliable and automatic production of contour cut labels and labels in the field of copy shop, product labeling, office applications and much more.
product details
Secabo's SC30 sheet vinyl cutter automatically cuts out stickers and similar objects from sheets sized up to 330mm x 488mm with complete contour accuracy. The SC30 automatically reliably draws individual sheets from a stack of up to 50 sheets (depending on the material). Various printable self-adhesive materials such as paper and film can be used. The cutting system's maximum contact pressure of up to 750g also allows for cutting laminated prints. Thanks to the well-known crop mark recognition system LAPOS Q, a barcode with the corresponding cut job's identifier is read at the beginning of each sheet in addition to the crop marks and the associated data is automatically retrieved from DrawCut PRO. Thus, sheets with different cut jobs can be mixed. User intervention is not required. The SC30 sheet vinyl cutter is the ideal machine for reliable and automatic production of contour-cut stickers and labels in the business areas of ​​copy shops, product labeling, office applications and many others.
vollautomatisches konturgenaues Schneiden von Aufklebern und Etiketten von Bögen bis zu 330mm x 488mm
schneller Bogenschnitt mit automatischer Stapelzuführung
ideal für die Produktion von kleinen Auflagen an individuellen Etiketten, Produktkennzeichnung, Büroanwendungen oder für Copyshops
einfache Erstellung von Passermarken und Job-Barcode in DrawCut PRO
leises Tischgerät, ideal für Büroumgebung
DrawCut PRO für Windows im Lieferumfang enthalten
Technical data
| | |
| --- | --- |
| interfaces | USB |
| weight with package | 56 kg |
| countour cutting function | LAPOS Q, sequential cut marks |
| scope of delivery | Sheet cutting plotter, multilingual cutting software DrawCut PRO (Windows), drag knife, ball-bearing knife holder, plotting pen, connecting cable, user manual in German language |
| power supply | 175W, 230V, 50Hz |
| environment | 5°C - 35°C, up to 50% humidity |
| max. thickness | 0,5 mm |
| motor | servo drives |
| downforce | 50g - 750g g |
| control | backlit graphic touch LCD graphic display |
| weight without packaging | 36 kg |
| Max. cutting speed | 960 mm/s |
| Dimensions (W x D x H) | 65cm x 51cm x 37cm |
| Max. sheet size | 330mm x 488mm |
| Max. cutting surface | 320mm x 478mm |
customer Reviews
Unfortunately there are no reviews for this article yet.
Please register to write a review.