Do you have any questions?
Car Wrapping Slide: Creative design possibilities
After a big shopping in the shopping center or furniture store it is always the same: on the huge, crowded car park it is difficult to find his car in the sheet metal mass - most cars look the same, color, there are hardly any differences. Car wrapping film offers you the possibility to stick out from the crowd. Design your car individually and personally according to your ideas and let your creativity run wild! Our robust Car Wrapping film is suitable for various applications, easy to apply and can be removed without residue by means of suitable tools. The multi-layer cast high-performance PVC foil also holds on uneven and vaulted surfaces and is available in various structural designs and colors with a high-gloss or even a matte surface. The decorative surface refinement ensures uniqueness and is used for full vehicle wrapping - even advertising for your company can be placed well here! At YOW! Car wrapping film is available as a meterware and can beautify your vehicle for up to six years. Find a suitable film for your car now!
Car wrapping films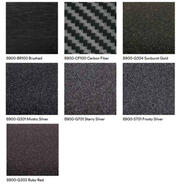 3M 8900 Wrap Overlaminate
---
13 hit
Page 2 from 2